RMAF 2012 – Report
A report – of sorts.
There was nothing really ambitious at the show. As Neli might [does :-)] put it, there is always "some piece of crap" in an otherwise interesting system. This a) prevents the system from sounding good and b) makes it impossible to really hear what the good pieces are doing.
Oh well.
My focus was therefore a) what sounded good at the price and, more difficult, b) what goes into a sound that not only sounds good but, for me personally, one that I could live with for 6 months, a year, 5 years.
We didn't exhibit this year, so maybe people did not know how to find us, but it seems a lot of the people we know were unable to make it. The consensus was that overall traffic was down, though I thought Friday it was quite crowded.
Those manufacturers who didn't make it this year but who have exhibited recently here are: Magico, Avantgarde, Hansen,Joe Roberts and Silbatone, Acapella, Revel, BAT …
The headphones part of the show is continuing to grow – up to maybe about 30 booths now.
Best of Show
This best-of-show is according to my taste which consists of, in priority order: correct timbre, good control and separation, good resolving of the subtleties of the music, and good midi-dynamics and otherwise NO extremely bad distracting behavior. Soundstage and imaging, powerful bass, room pressurization etc. are less important to me, although I do enjoy them [and do use them as indicators of overall quality].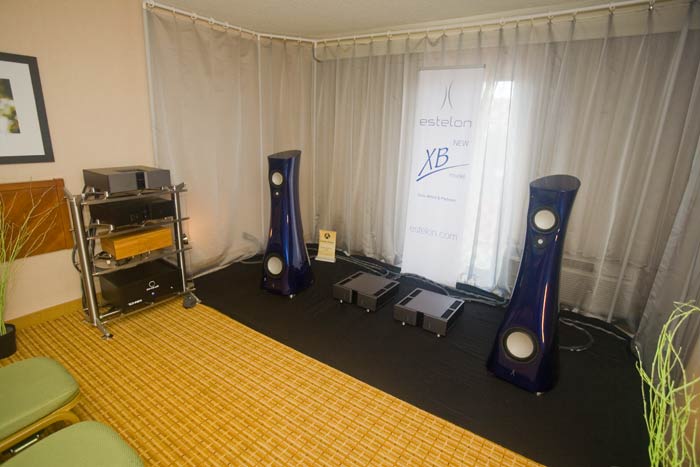 This year my BOS is the Estalon, Vitus room. The Estalon speaker rooms have also been consistently good for the last several shows.
I enjoyed many other rooms: Audio Note, the PranaFidelity and Musical Design room, Studio Electric, Rthem, the Gershman and VAC room, the Acoustic Zen and Tri room, the Nola and ARC room, the YG Acoustics and Veloce room, the Von Schweikert VR 22 room, Odyssey Audio, the Von Schweikert and McIntosh room.
All these room have real issues, but I could have spent the entire show in any of them and not run screaming. The ultimate test for all of us I guess 🙂
Our Show Reports
We took over 1000 photos and we will be posting photos of each room soon.
But…
I am no longer going to write Show Reports that describe and analyze the sound in any kind of detail.
My point to these show reports has been to describe the sound in detail, describing why and how each system is not perfect. How we must each choose our poison as well as our needs and preferences. How each system is a compromise.
But I feel that such an intellectual approach is not all that welcome by many for whom high-end audio is an emotional endeavor or exploration of possibilities… or a business… instead of what, for me, is a pursuit of the ultimate musical experience.
I tried using many different 'voices' to the reports, some of which pissed EVERYBODY off [:-)], and some of which just annoyed those who think their particular thing is The One, that will lead all of humanity to the golden age of enlightenment and joy… [until the next better version is released anyway :-)].
We will still do Show Reports with just tons of photos, and we have a few ideas 🙂 that, when we get the time, we think will make EVERYBODY happy, including those like me who have a real, deep abiding hunger to know what EVERYTHING sounds like – the good, the bad, and the ugly… and the beautiful.