CES 2011 – Lamm / Verity
The new Lamm ML2.2 amplifiers driving the Verity Lohengrin II speakers had a polite, almost sweet sound and was quite Enjoyable . Neli was there a lot longer than I was, so if you want to know more details about the sound, you might want to call her.
As for the Lohengrin II, in about 6 weeks we should know a lot more about how the Lamm ML3 (not the ML2.2) sound on these speakers in a much more controlled environment.
As for the new Lamm ML2.2, the replacement for the ML2.1, in this configuration two pairs were used in a bi-amp configuration to drive the speakers [see below]. There was a sense of ease to the sound – which no doubt was aided and abetted by the use of two pairs of amps instead of one.
The sound, as far as I could tell on the somewhat unfamiliar speakers and familiar but not completely understood cables and racks/amps stands – compared to the ML2.1 – is more smooth in the midrange/upper midrange and airy on top. The ML2.1 have a slight tendency to highlight some subtle details, and to be slightly diminished [as opposed to rolled off] in the very tip-top highs, and these amps appeared to have none of that. What I heard seemed to indicate – and it is something I would like to see, so perhaps I am somewhat blinded by desire – that these amps might be a blend of the best from the previous two generations: the Lamm ML2 and ML2.1 amps – along with some nice improvements [like more air on top].

Neli and other room visitors listening intently.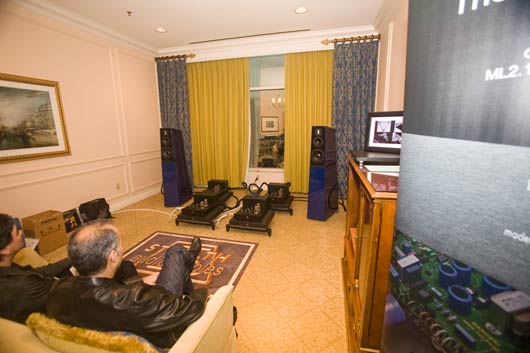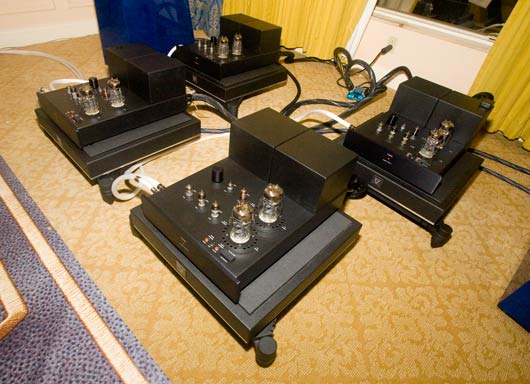 The new Lamm ML2.2 monoblock 6C33C-based SET 18 watt amplifier

The Lamm ML2.2 in a bi-amp configuration. Interesting, huh?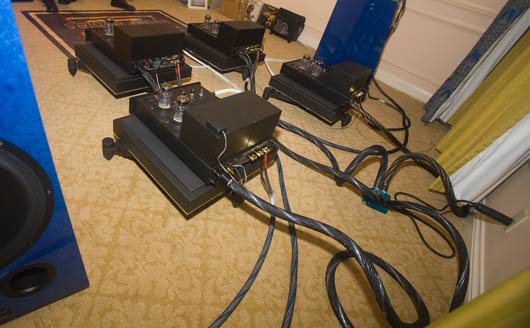 The amps from behind.

A 15 inch woofer on the back of the Verity Lohengrin, and a somewhat problematic bi-wire setup [you can use long jumpers from one binding post to the other or 2 separate single wire runs, one to each binding post, or two amps – like here – or …]

Neodio digital, Lamm L2 2-box linestage, a Lamm LP2 phono stage, and…?

A Redpoint turntable

The inside of the new Lamm ML2.2 amplifier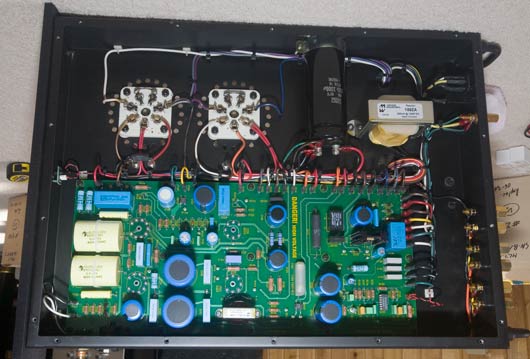 For comparison, the inside of our own previous generation Lamm ML2.1 amplifier