CEDIA EXPO 2006 Day Two
We spent most of the day wandering: about 1/4 on the main floor exhibits, 1/4 on the first floor exhibits and about 1/2 at T.H.E. Show (which has a high-end audio focus).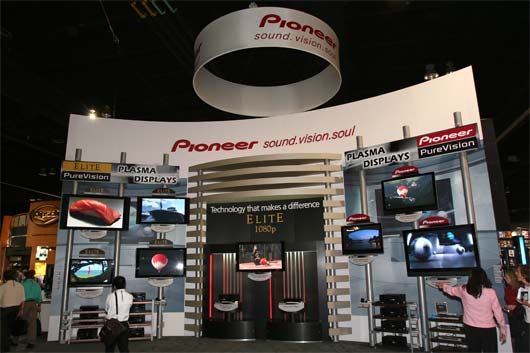 Pioneer Alter… I mean exhibit
Quick take-away: Audio sucks at CEDIA and Video sucks at T.H.E. Show.
Today was much busier than yesterday. We may just skip atending tomorrows show because the expected crowds will make it even harder to see and/or hear anything. Sunday should be nice and quiet and we should get in to a few final demos.
Yesterday, we did get the JL Audio Demo (Subwoofer was impressive, the other speakers not) and the Meridian / Faroudja Demo (video was very impressive, audio was low mid-fi). More details on these later.
Every system at the T.H.E. Show had better sound than any system we heard at the main CEDIA show (there are still systems we have not heard there, so this is not, and cannot, be an absolute statement). The audio systems at CEDIA seem aimed to do one thing – pressurize the room.
Watching the faces of the show goers during demos and during an exhibition-hall wide commercial announcement that was SO loud and SO distorted – I'd say that HT installers think this is just the way audio systems sound. My heart goes out to all the people paying big bucks for systems that are really almost unlistenable.
The typical sound has a midrange that breaks up into clacky noises without harmonic content, sounds with unpredicatble and very sharp transients,
The typical bass is thumpy and loose and overwhelming without emotional content or even shock value.
The typical soundstage, there ain't none (!), [directionality is all gimic and wows and effects and not continuous thoughout the movie – it is just kind of added in as a condiment – it was a pleasant shock to hear a video that had a soundstage when we got to T.H.E. Show after a day and a half at CEDIA].
I'd say 80% of the video at CEDIA was first rate – significantly better than anything I've seen outside of computer generated animations runing on computer monitors. The video at T.H.E. Show was for the most part pixelated, washed out, distorted, low resolution, etc.
Anyway, we'll do a critique of each room's sound – in general, the sounds at T.H.E. Show did not embarass themselves – and one room was quite impressive, and all but two were running videos.
Picks and pics of T.H.E. Show later…
Pics of CEDIA are here: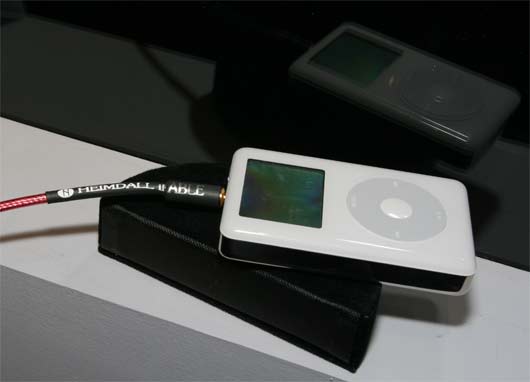 Nordost Heimdall cable connected to an IPOD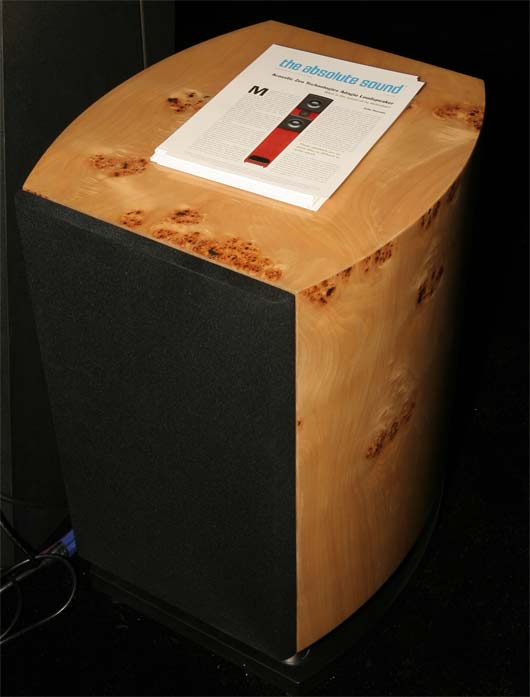 Acoustic Zen subwoofer in a furniture-quality wood finish
The 2006 CEDIA EXPO Show Report Day 2
I think my comments are meandering all over the place…. I think I need to go back to touching up photos befoer everyone thinks I am pixelated and washed out with a collapsing midrange and… Uh. Oh.