The Montreal 2006 Show Report
The photos of FSI 2006 Are *Almost* all up on the website. There are 1000+ photos up already, of a little more than 45 rooms. Still have about 10 rooms to go.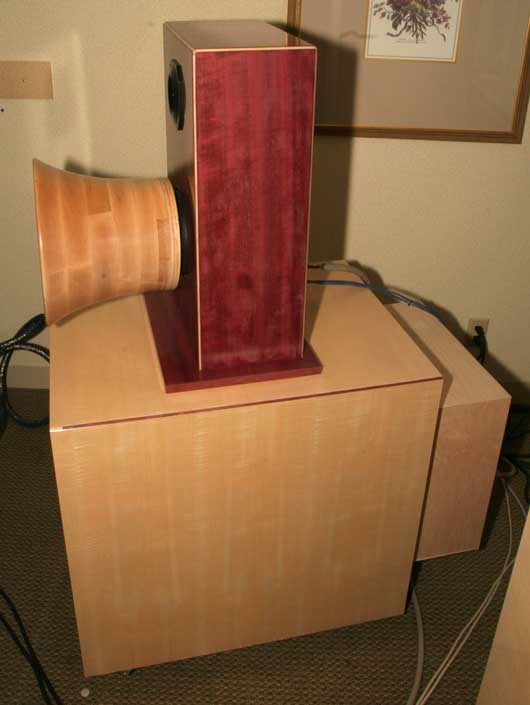 The Report: So far only photos.
Each of the 2400 photos is checked for focus and clarity and content. The ones that make it past this check are each Photoshop'ed. by hand.
The Photoshop'ing process involves cropping most photos to remove extra stuff that doesn't add to the picture while leaving in context. Sometimes this is just ceilings and empty walls, sometimes it is eclipsed components or someone's face who may not want to be embarrased by having their mug shot plastered all over the web. This reduces the size of the photo so saves dwnloading time by people viewing the photo.
Then the lighting situation in the photo is then modified a little, if necessary.
The photo is then saved in the high-resolution format: usually 1500 pixels wide for landscape and 1400 picxels tall for portrait orientations.
The photos for each room are then arranged in order: room pictures, speaker pictures, rack pictures, component pictures, and finally static display pictures.
They are then added to a HTML page and given the once over to remove photos that are too similar to each other.
Finally some text describing the brands of the components in the room is added and a thumbnail photo is created and added to the master 'table of contents' page.
Still to do:
Adding some text for each picture in place of the placeholders 'The' ,"This' etc. The placeholders were there because setting the default text color in Frontpage is not always sucessful and black text on black background is awful hard to edit, much less read.
Writing a script to automatically generate the lower resolution photos from the high resolution photos, and their associated web pages. This requires some manual labor with Photoshop, because it is a little stupid, but it does the best job quality-wise of rescaling images of any tool that I am aware of. Certainly better than Java.
Then… finally… the real show report with the… commentary.
This year the hard-hitting comments will be outside the main photo montage pages. This is because some manufacturers like to link to our pictures – and the pictures are meant to be of archival quality, so we are good with that. And it is not their fault that the person setting up the room with their stuff made noises instead of music. Then again, maybe their stuff sucks… 🙂
In any case – this is the apprach we will take this time. It is the approach we have taken before – and I guess we will see if people (you!) like this approach or the CES 2006 approach better.
OK, back to work!