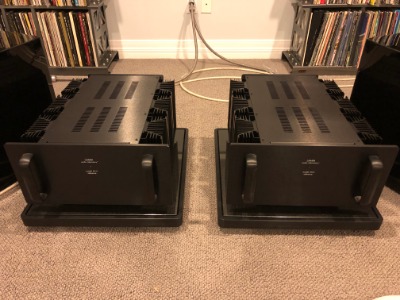 SOLD: Lamm M1.2 Reference hybrid mono amplifiers
These amplifiers have been sold and are now in a happy new home.
We had a trade in pair of Lamm's M1.2 Reference hybrid monobloc amplifiers for sale. Our customer has enjoyed these thoroughly but is now ready for a change. Beautiful condition, cosmetically and sonically, 7 years old. With original crates, manuals and packaging. These amps have not left our customer's dedicated listening room since he received them brand new.
The Lamm sound is pure, rich and sophisticated. The M1.2 Reference are highly capable amplifiers suitable for driving a wide range of loudspeakers. MSRP $32,490. Asking $15,500 plus shipping.
From the factory — and recommended reading: https://lammindustries.com/pages/power-amplifiers-m1-2/
Lamm Industries builds a comparatively small line of carefully curated, meticulously designed electronics. Each piece is really a treasure, designed by Vladimir Lamm and hand built in Lamm's Brooklyn, NY factory. Lamm's hybrid amplifiers combine the ease of use associated with a purely solid-state design, with the verisimilitude to the original performance and emotion for which Lamm is known. We are honored to have been dealers for Lamm since 2003; if you have questions about how these M1.2 Reference might suit your system, please send us an email (mike+neli@audiofederation.com) or give Neli a call or text: 303.546.6503.
M1.2 Reference, packed up and ready to ship
Yes, of course we have more pics. Send a note if you're interested, and we are happy to provide all the details.