EMM Labs price list
Emm Labs products and prices: XDS1, DAC2X, TSDX, PRE2
Prices subject to change. Not responsible for errors. All prices in u.s. dollars. Prices do not include shipping to purchaser
MTRX Monoblock Reference Amplifiers
$130,000 pair ($75,000 each)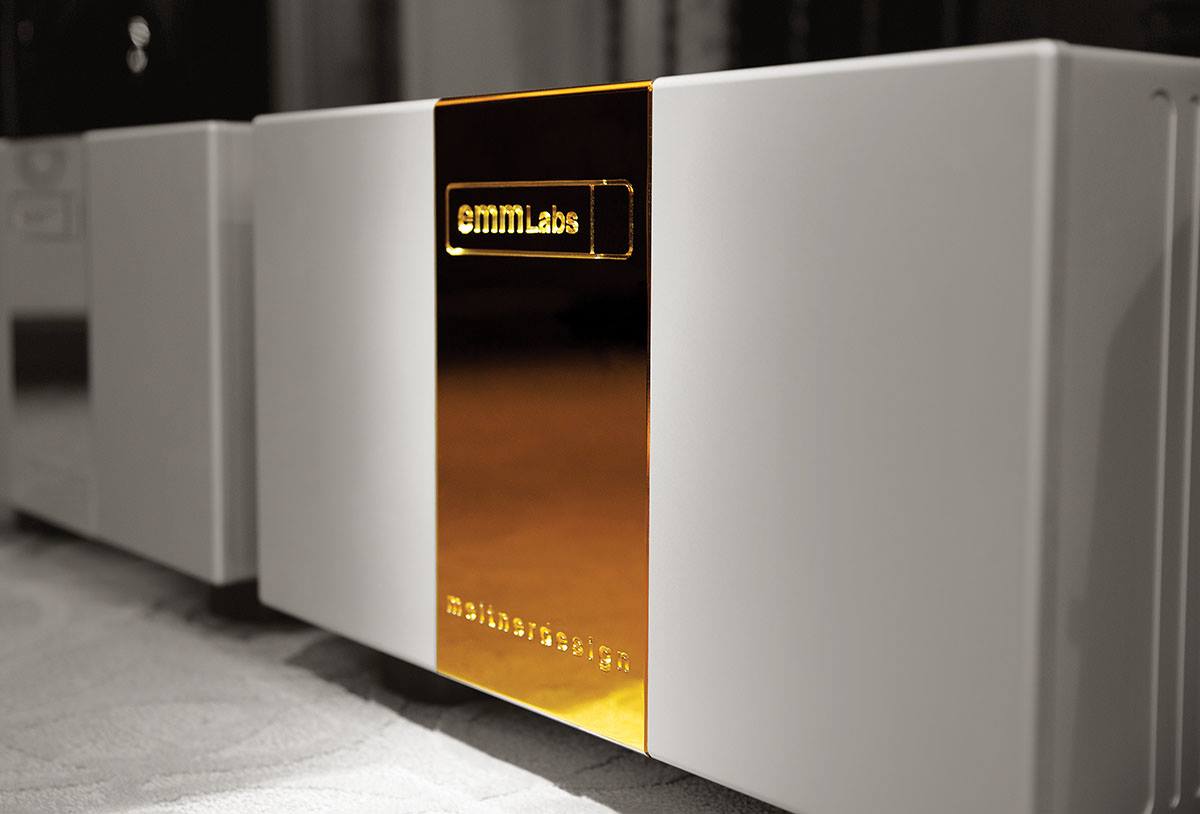 EMM Labs celebrates the eagerly anticipated return of designer Ed Meitner to the world of power amplifiers with the debut of his MTRX reference monoblocks. It has been twenty years since the last Meitner audiophile amp and the MTRX is well worth the wait. More than a decade in the making these 1500W Class A/B solid-state powerhouses are able to drive the most fiendish and complex speaker loads effortlessly, while sounding as sweet, musical and detailed as a classic single-ended triode tube amps.  "It is truly a gentle giant," said Ed Meitner.
The MTRX monoblocks achieve their superlative performance and transparency using 21st century technology with proprietary Meitner circuit topologies and zero overall negative feedback. These systems are fully discrete, offering ultra low distortion, very high bandwidth with the ability to deliver huge and instantaneous output currents. The MTRX monoblocks are designed with short and fully balanced audio paths, impeccable speaker protection and self-protection.
Conservatively rated at 750W into 8 Ohms, 1500W into 4 Ohms and they are capable to drive loads well below 2 Ohms impedance effortlessly.
Available in very limited yearly pre-ordered production. Ultrafine CNC finish in silver and black with customers choice of 24K Gold (hard coated plating), Silver (deep nickel plating) and Titanium (dark grey brushed aluminum) center inserts and buttons.
Around 220 pounds (100Kg) each.
Preliminary and very CONSERVATIVE specifications follow: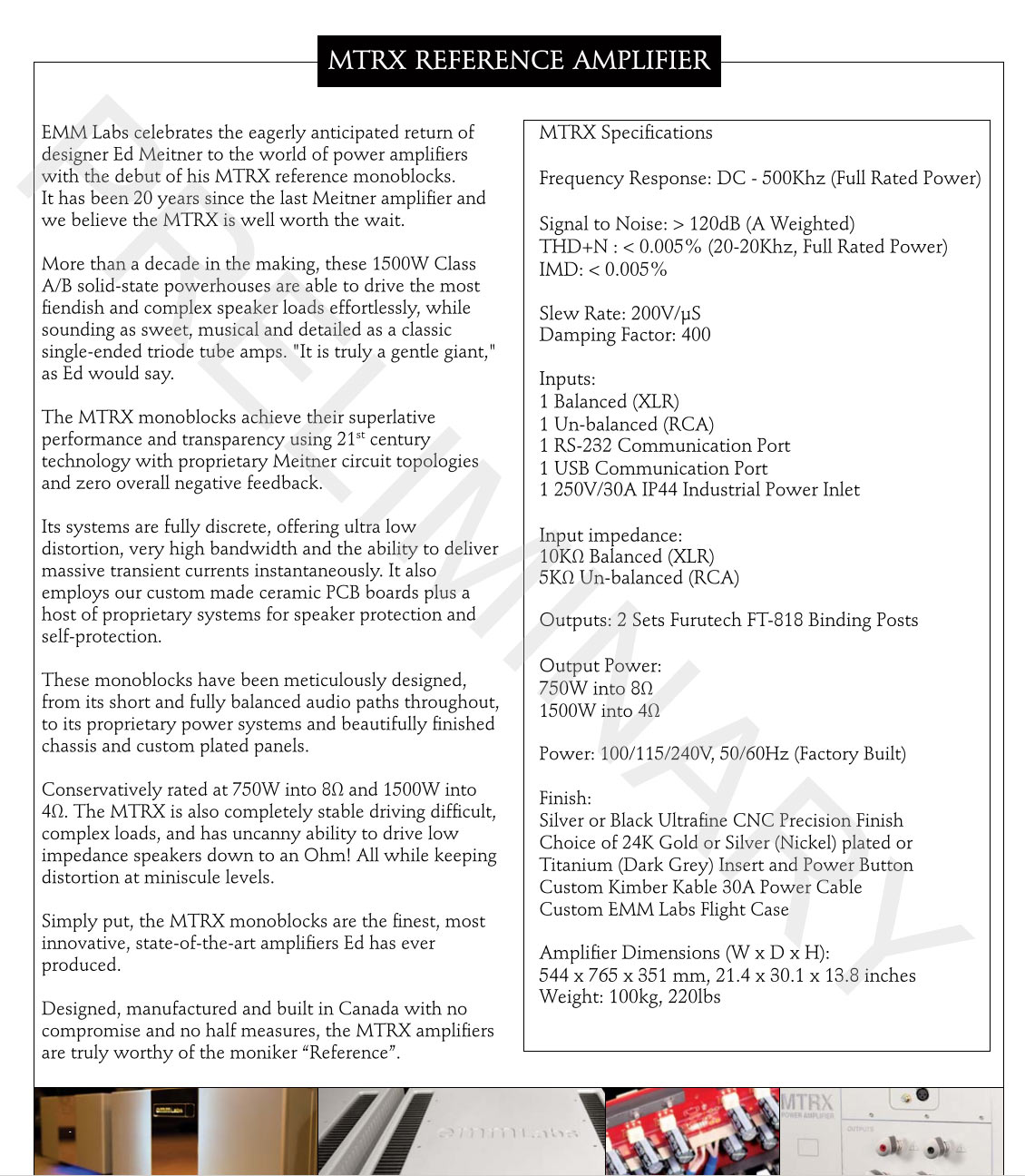 XDS1 V2 CD / SACD Player
$25,000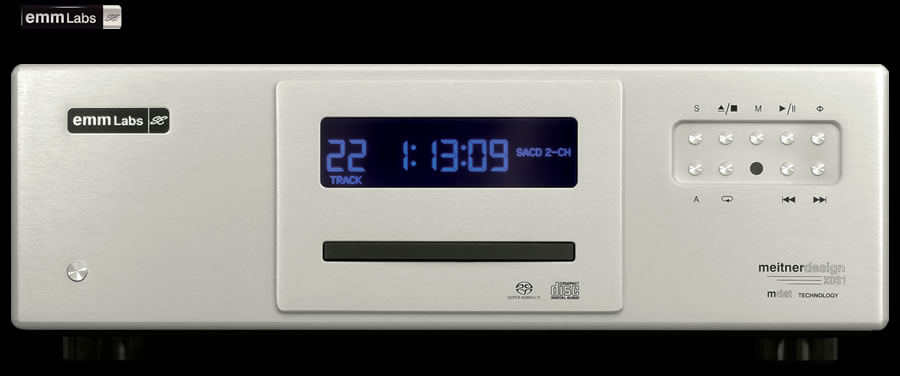 Key Features:
All digital inputs support up to 24bit, 192kHz PCM audio

PCM inputs via USB, AES/EBU and Toslink

DSD streaming over USB (DoP 1.0)

Single stage from DAC to output with fully discrete Class-A circuitry

Meitner Digital Audio Translator (MDAT™) signal processing technology

Provides 2x DSD upsampling for SACD and PCM playback

Preserves phase, frequency and dynamic integrity of waveform

MDAC discrete dual differential D-to-A conversion circuit

MFAST technology for instant signal acquisition, jitter-free performance

High-isolation resonant mode power supply for silent, green operation

Exclusive aerospace-grade composite laminate circuit boards

Silky smooth Esoteric™ drive

Sculpted, brushed aluminum chassis

Low resonance, internally braced design with thick, machined sole plate

Available in silver or black

LCD display with four brightness levels and a display-off setting

Precision-machined aluminum multifunction infrared remote control

Remote-controllable polarity inversion performed in the digital domain

CE-compliant device
Power Supply:
Power factor corrected

Factory set to 100V or 115V or 230V, 50/60Hz

Power consumption: max. 45 W
Stereo Audio Outputs:
Balanced on XLR

Unbalanced on RCA
Digital Inputs:
Class 2 USB (44.1kHz, 48kHz, 88.2kHz, 96kHz, 176.4kHz, 192kHz, DSD)

AES/EBU PCM (44.1kHz, 48kHz, 88.2kHz, 96kHz, 176.4kHz, 192kHz)

TOSLINK PCM (44.1kHz, 48kHz, 88.2kHz, 96kHz, 176.4kHz, 192kHz)

Up to 24bit wordlength at all inputs

DSD streaming over USB (DoP 1.0 specification)
Digital Outputs:
Stereo Audio Outputs:
XLR 300 ohms balanced, 5V peak

RCA 150 ohms unbalanced, 2.5V peak
System ports:
USB Port for software upgrades

Wired RS-232 control

External IR Remote
Factory set to 100V or 115V or 230V, 50/60Hz

Power consumption: max. 45 W

Dimensions: W x D x H: 435 x 400 x 145mm

Weight: 17kg
Anthony Cordesman "natural, musically realistic sound"
October 2010
"The most musically natural SACD and CD player I have yet encountered. A true pleasure to listen to! I owe HP one for introducing me to EMM Labs. I should also say that I am making the XDS1 one of my references… and more than a bit of a breakthrough in terms of natural, musically realistic sound…"
Harry Pearson "Editor's Choice"
October 2010
"The sonic evolution of CD players at the high end has become so intense that it is small wonder that hard on the heels of his outstanding TSD1/DAC2 two-piece two-channel system, Ed Meitner has achieved his magnum opus, a statement CD player that has no traces of the things we normally associate with "CD sound," that is, an identifiably "digital" character, or, for that matter, an identifiable characteristic coloration"
Superior Audio – Enjoy the Music.com
Phil Gold "musically satisfying"
August 2011
"In short, SACD performance is raised to unmatched levels in my experience, while CD comes closer than ever before to SACD. In every single area of performance, resolution, timing, transient response, decay, image size and depth, frequency response, dynamics and tone color, the XDS1 improves on all digital players I have heard before….this is the state-of-the-art, and as musically satisfying a machine as I could wish. For that reason, and for how it performs in comparison with other expensive hardware, I am forced to admit it represents good value for money too. You can't get there for less."
Fred Crowder "a great foundation"
August 2010
"…the XDS1 exhibited a wonderful control of all sounds, with a balanced presentation that is truthful– not warm, not edgy, not syrupy, just liquid, with very solid, well-articulated bass. The XDS1 provides the music a great foundation. It is very controlled….in the end, particularly given the level of performance vs. price, buying the XDS1 was an easy decision."
Alvin Gold "perhaps the finest"
December 2009
"…we observe that this is one of the finest sounding SACD players we've ever used, perhaps the finest. And although we weren't able to fully explore the ability of the digital input, on paper at least, it should be something very special."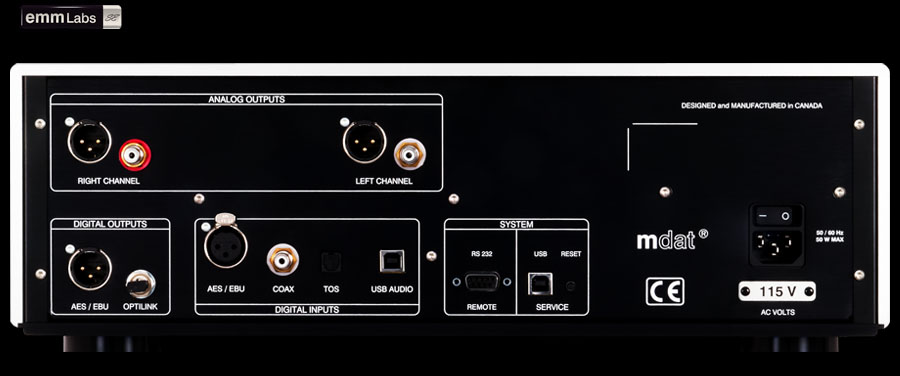 DAC2X Stereo D/A Converter
$15,500 (TSDX + DAC2X: $30,000)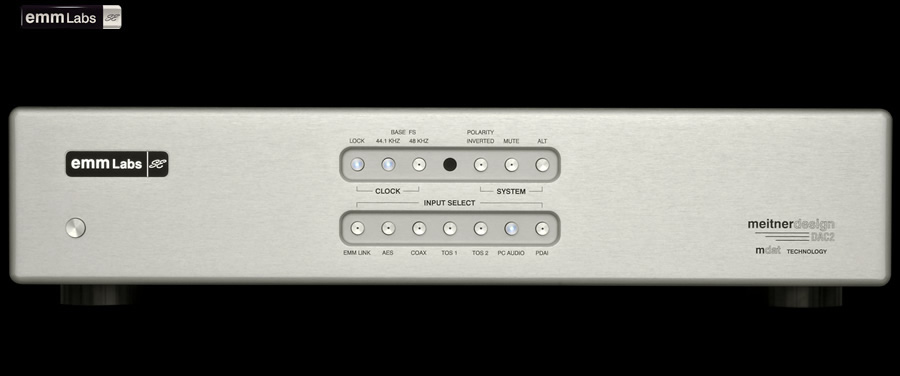 Key Features:
XDS1-generation MFAST™ technology for instant signal lock, jitter-free performance

XDS1-generation Meitner Digital Audio Translator (MDAT™) signal processing technology

XDS1-generation proprietary 5.6 MHz discrete dual differential MDAC™ converters

XDS1-generation reference power system

Exclusive aerospace-grade composite circuit boards

EMM OptiLink input provides DSD transfer from matching TSDX CD/SACD Transport

Remote-controllable polarity inversion performed in the digital domain

24bit-192kHz support on all PCM inputs including USB

DSD streaming over USB (DoP 1.0 specification)

Secondary USB port for future firmware upgrades

Serial port for wired remote control

Precision-machined massive aluminum chassis

Precision-machined infrared remote control

CE-compliant device
Power Supply:
Power factor corrected

Factory set to 100V or 115V or 230V, 50/60Hz

Power consumption: max. 50 W
Stereo Audio Outputs:
Balanced on XLR

Unbalanced on RCA
Digital Input Formats:
EMM OptiLink (CD/SACD from TSDX)

DSD streaming over USB (DoP 1.0 specification)

Up to 24bit, 192kHz on all PCM inputs

USB Class 2 Audio

AES/EBU XLR PCM

2x SPDIF Coax

2x SPDIF Toslink
Stereo Audio Outputs:
XLR 300 ohms balanced: +15.4dBu,  4.6Vrms

RCA 150 ohms unbalanced: +9.4dBu,  2.3Vrms
DAC2X Reference D/A Converter
Superior Audio – Enjoy the Music.com
Phil Gold "a truly satisfying DAC"
August 2011
"…I will just say that this is a truly satisfying DAC, capable of extracting the maximum out of both Redbook and high resolution sources, PCM and DSD based, and if you inhabit a world where you can afford the price of a small car (with its own built in DAC) for a single audio component, go for it. I doubt you'll hear better than this — I haven't."
DAC2X Reference D/A Converter
The Computer Audiophile
Chris Connaker "unequivocally the best DAC I've heard"
July 2012
"This DAC not only earned a spot on the C.A.S.H. List but is the front runner for CA Product of the Year 2012. It's unequivocally the best DAC I've heard in my system."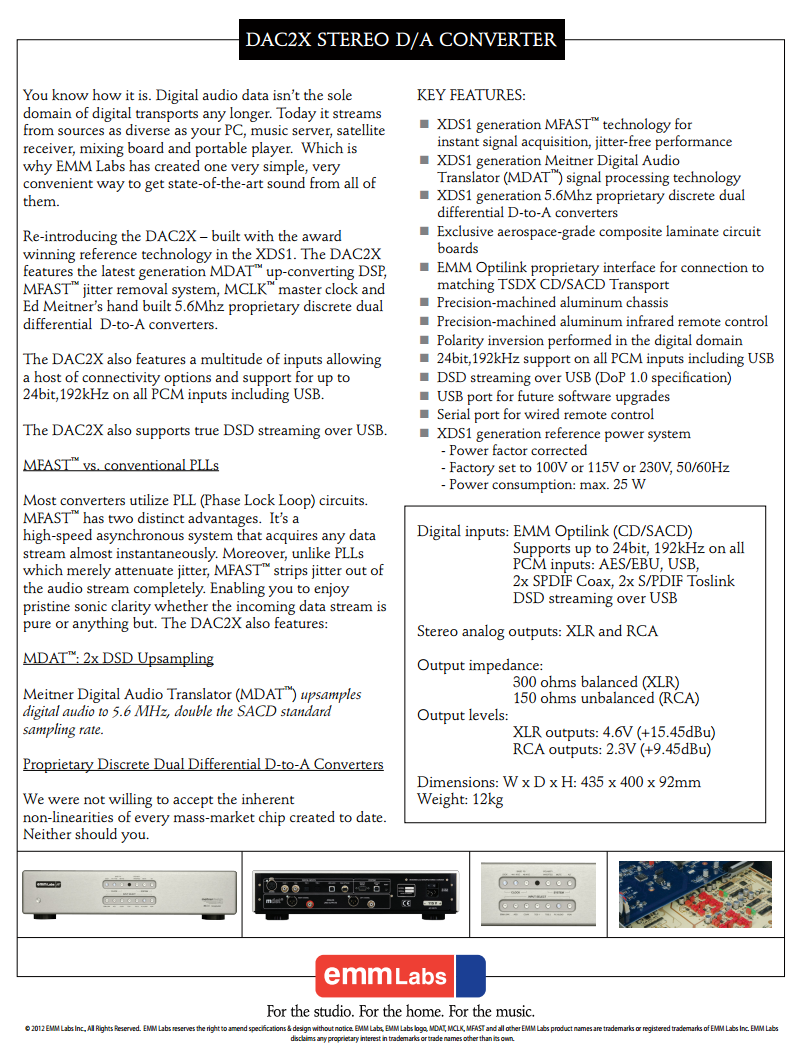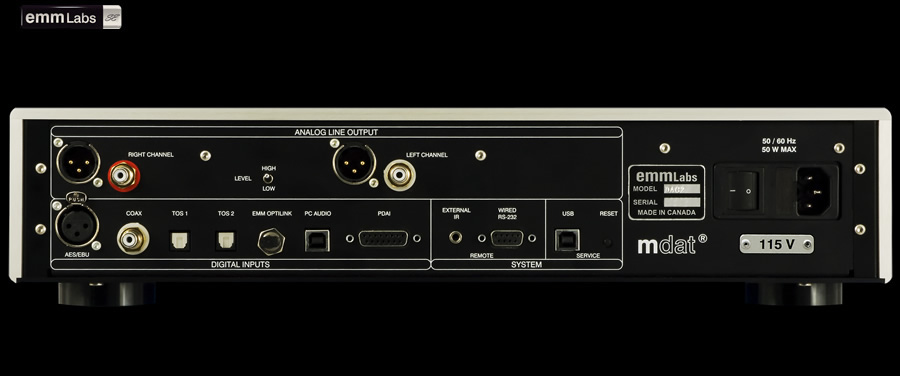 TSDX CD / SACD Transport
$17,000 (TSDX + DAC2X: $30,000)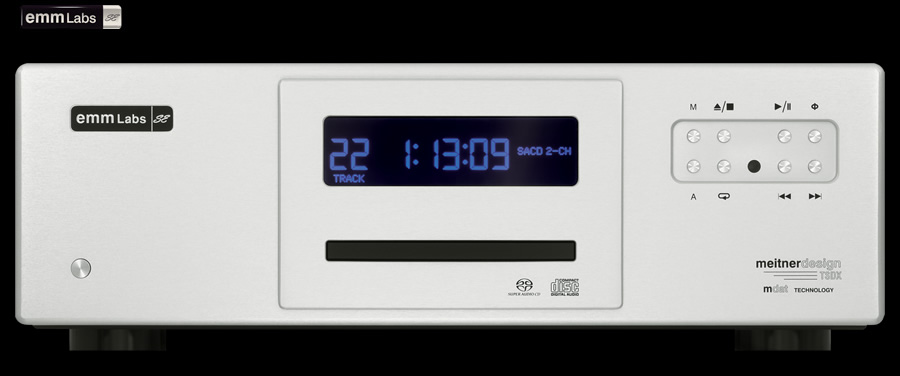 Key Features:
XDS1-generation Meitner Digital Audio Translator (MDAT™) signal processing technology

XDS1-generation reference power system

Precision-machined massive aluminum chassis

EMM OptiLink digital output for DAC2X converter. Glass optical interconnect is immune from EMI/RFI interference

Optical output for DSD from SACD or CD

AES/EBU output for PCM from CD

USB port for future software upgrades

Serial port for wired remote control

Precision-machined aluminum multifunction infrared remote control

CE-compliant device
Power Supply:
Power-factor corrected

Factory set to 100V or 115V or 230V, 50/60Hz

Power consumption: max. 40 W
Dimensions: W x D x H: 435 x 400 x 140mm

Weight: 15kg
Digital Output Formats:
EMM OptiLink for direct connection to matching DAC2X Converter

PCM over AES/EBU XLR
TSD1/DAC2-SE Combo
The Absolute Sound
Harry Pearson "2009 Golden Ear Award"
"…a breakthrough in the reproduction of Red Book CDs. In the new TSD1/DAC2-SE combo Meitner says he has been able to remove all the "jitter" from CD playback. This allows us, or rather allowed me, to hear what jitter does to digital sound. The whole thing looks better, sounds better, and is better."
TSD1/DAC2-SE Combo
Home Theatre Review
Ken Taraszka "my highest praise"
July 2009
"I have never in my life been made so agog by a single change to my system as when I added this combo to my reference rig. The first time I played it, I spent hours going through all my favorite music. Towards the end, I tried to find the worst recorded material, only to find they made these recordings sound great, too. This earns this combo my highest praise. The new EMM Labs TSD1/DAC2 combo is the best player of digital media of all time. They will redefine what you should expect from digital playback. I know they did for me; I loved them so much I bought them rather then send them back when the review was done."
TSD1/DAC2-SE Combo
Superior Audio – Enjoy the Music.com
Phil Gold "solid imaging and tonal accuracy"
June-July 2009
"I have not heard its equal on high resolution digital material at any price, although you can easily spend a lot more… if you're looking for the best available sound, put the TSD1 and DAC2 right on the top of your shortlist."
TSD1/DAC2-SE Combo
HiFi+ Review
Jason Kennedy "there's no real competition"
December 2009
"By removing digital glare the EMM Labs system is better able to expose the full scale and depth of recordings, this is apparent on all the discs… This quality of musicality is what sets the EMM Labs pair apart, it can find the groove where other players fail. I could go on, this is the most engaging and yet refined digital source I've had the pleasure of using. It's inconveniently expensive but if you have the wherewithal there's no real competition."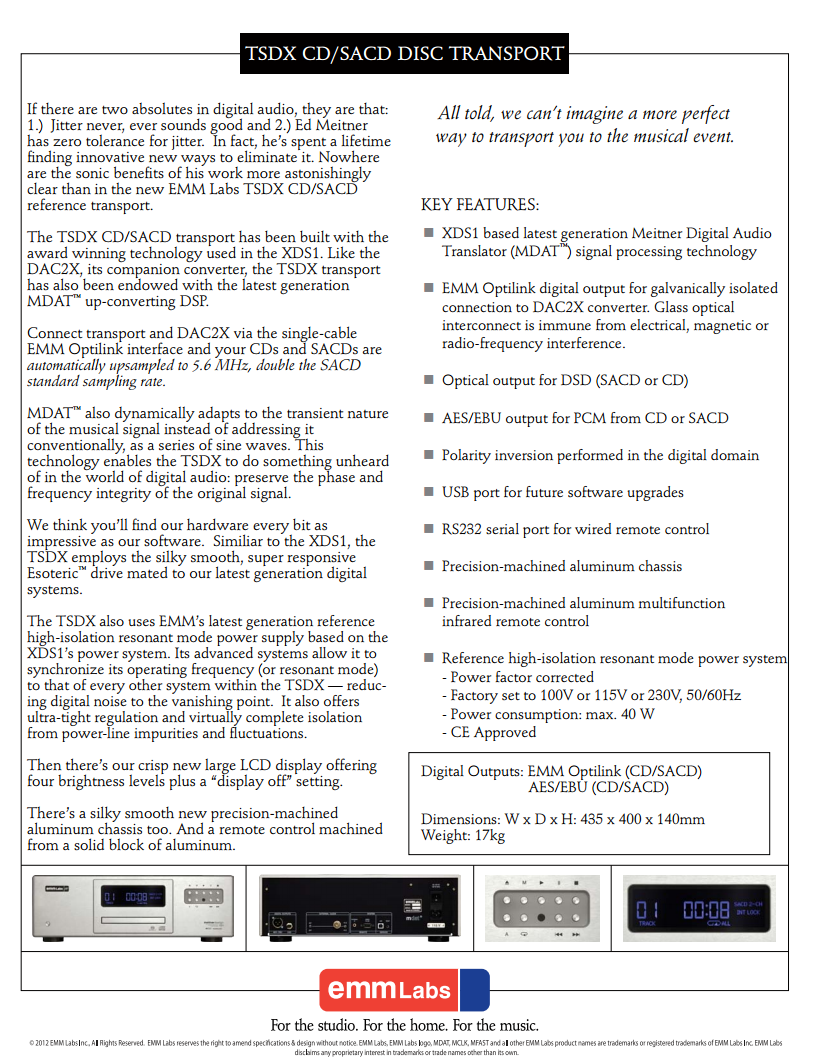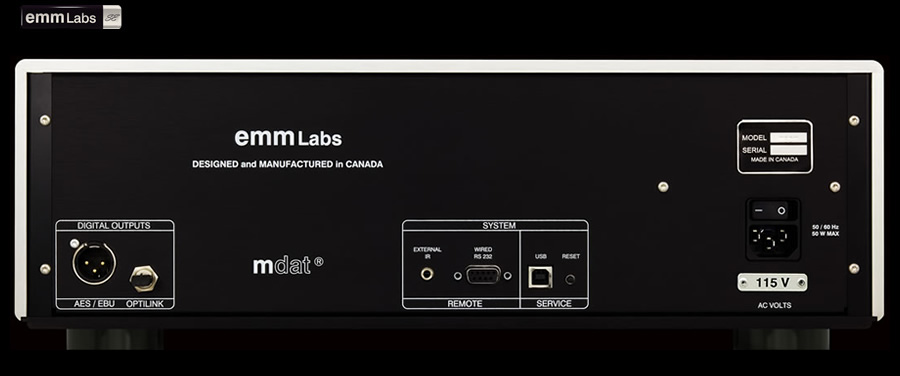 PRE2 Preamplifier
$15,000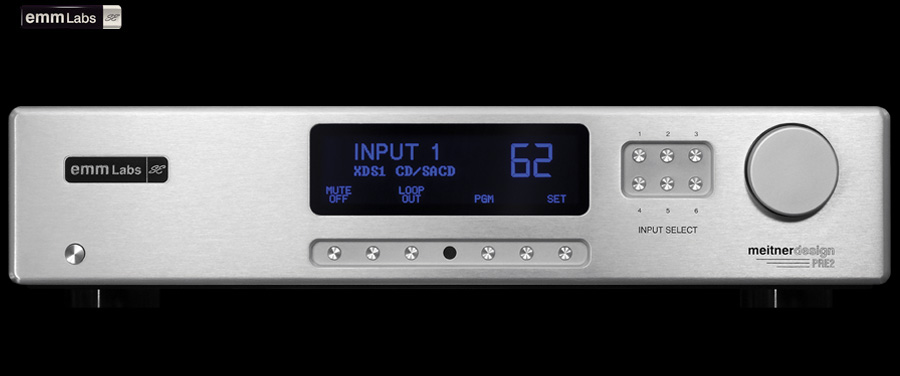 Key Features:
Two XLR inputs, four RCA inputs,




and one RCA Recording Loop.

100% contactless, discrete, signal paths

Clean Class-A power to drive cables




and loads without degradation

Proprietary software-based analog




volume control

Exclusive composite laminate circuit boards

Multifunction infrared remote control

Flexible LCD status and control display

Serial port for wired remote control

Daisy-chain expansion for multi-channel use

Aero aluminum machined chassis

CE compliant
Power Supply:
Power factor corrected

Factory set to 100V or 115V or 230V, 50/60Hz

Power consumption: max. 40 W
Stereo Audio Outputs:
Balanced on XLR

Unbalanced on RCA
Specifications:
S/N ratio: 110dB (A-weighted)

THD: 1kHz <0.01%; 20kHz <0.01%

Frequency range: 0Hz-100kHz

Gain control range: Better than 62 dB

Maximum output level: +/- 11V p-p (+26 dBu)

Maximum input level: +/- 7V p-p (+22 dBu)

Input impedance: XLR – 20K ohms, RCA – 10K ohms

Output impedance: XLR – 150 ohms, RCA – 75 ohms

System gain: +12dB

Stereo analog outputs: XLR and RCA

Dimensions W x D x H: 435 x 400 x 92mm

Weight: 12kg
"…O Emm Pre2 é o mais neutro de todos os prévios de estado sólido que já testei – e foram muitos. Incluo aqui os Mark Levinson do mesmo distribuidor. Atribuo esta notável característica ao controlo de volume e à ausência no caminho do sinal dos mal-fadados op-amps utilizados por quase toda a concorrência."
"…uma lufada de ar fresco nas propostas de topo de gama, em termos de pré-amplificadores"
Superior Audio – Enjoy the Music.com
Phil Gold "Truly high-end"
July 2011
"What it does is simply to lose less information along the way than the JC2 or any other preamplifier I've reviewed. It's the purest and most accurate component I have had the pleasure of listening to.. For now the bar has just been raised. I've made my choice. Meet my new reference preamp."