Things I liked – mostly quite inexpensive speakers in the $3K range – and other things that stood out for me.

Schroder Pivoted Linear tracker tonearm o THE BEAT Magdrive turntable in room 1126 [neli spent a lot of time here. Do we finally have plug-n-play linear tracking? … coolness]

Tube Research Lab's DUDE preamp in room 1102 [neli says NO but, dude, how can WE not like this?]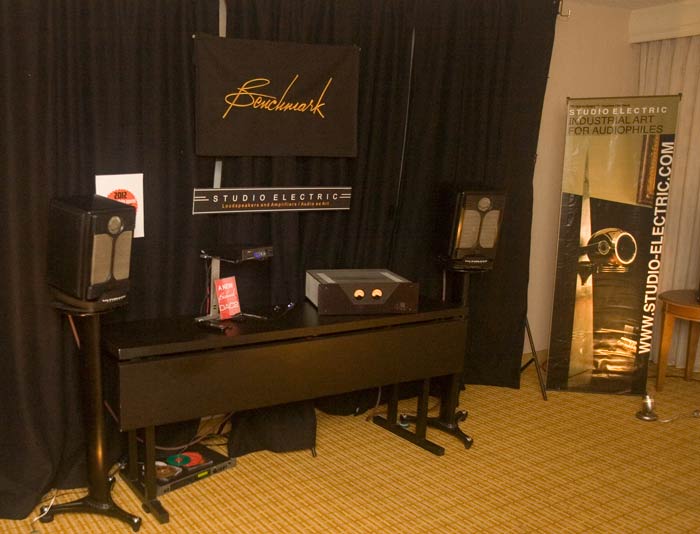 Studio Electric in room 1000 [their Monitors really come into their own on these stands. Very enjoyable and engrossing.]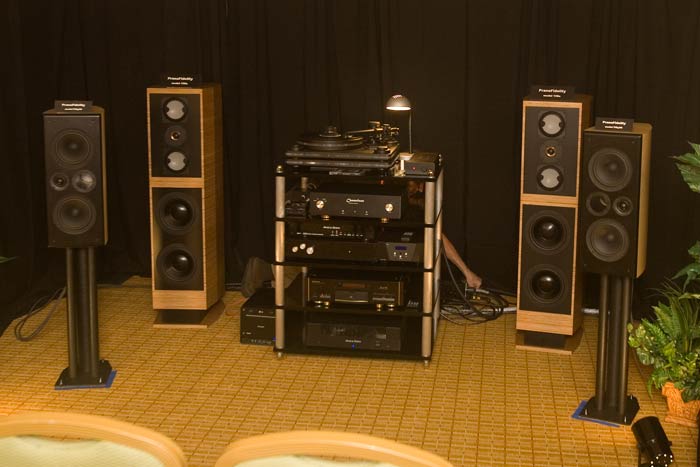 PranaFidelity in room 9010 [Steven Norber's new speakers on an inexpensive system – heard the monitors and very well-behaved, open and dynamic]

Odyssey Audio in room 9000 [another inexpensive system, best we've heard Odyssey at this show – enjoyable and accessible]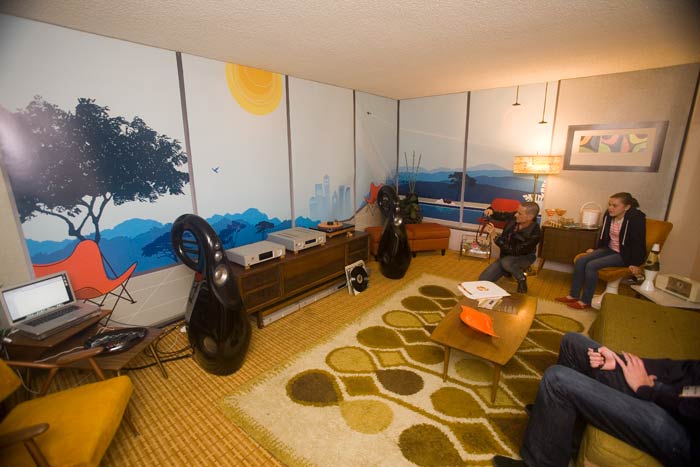 Small Vivid speakers in the Ayre room 9002 [cute/awesome Vivid speakers in a room with a startlingly non-show like decor. And they play Smashing Pumpkins on vinyl.]

The new Wilson Audio Alexia speaker in room 2030
Sorry for the relatively bad quality – the VTL room prohibits me taking photos this year – maybe prohibiting everyone taking photos, don't know – and so the 1st Alexia photo is cropped from a large photo of the entire VTL system that I took before I was shooed away and the 2nd was taken as I was quickly exiting stage right.

The new Wilson Audio Alexia speaker in orange in room 2030 [seriously, is the best speaker color ever or what?]

A bunch of stuff on Von Schweikert VR-22 speakers [not exactly well-behaved but another big, open, dynamic fun sound on inexpensive speakers] in room 2000

Peachtree Audio on Zu Audio speakers [like the VR 22 room but a little edgy-er, tighter sound] on the Mezzanine in Maroon Peak

Audio Power Labs [an interesting listen. Need to go back] on the Mezzanine in Pikes Peak

Vivid speakers in the TweekGeek room [neli says they were playing some unique vinyl here that had the system sounding quite good. I heard it with the laptop … oh well]… on the mezzanine in Longs Peak

Someone must of let Danny Kaey out… [ 🙂 ]

Very ambitious piano playing with both better sound and, frankly, better music selection than most rooms IMHO. Nice. Sponsored by Ray Kimber / IsoMike.

The undulating carpet outside the isoMike room was causing people to either get seasick a 1000 miles from the ocean or lose their footing and tumble down onto the carpet. [or both. View this fullscreen if you do not believe :-)]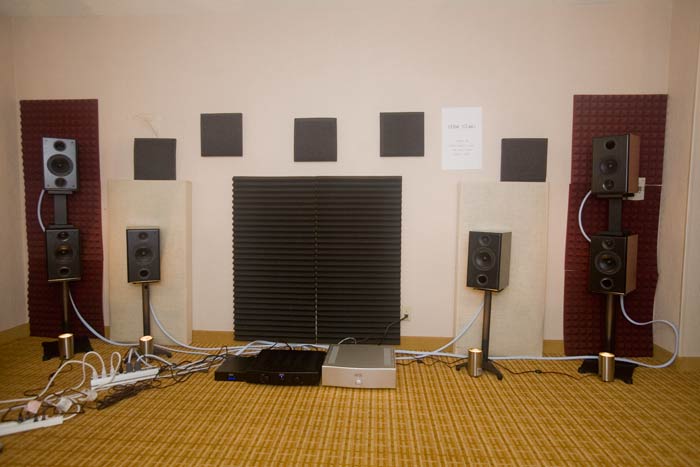 This demo created a wide soundstage, very open and dynamic – kind of like what Audio Note achieves by putting speakers in the corners – albeit with the limitations one might expect from modest speakers like this – … But I wish they would make it look nicer. (the clue) room 1026

Light Harmonic CD player in room 1014.

Veloce, YG Acoustic, Kubala-Sosna in room 1007. Interesting but more listening required.

Winners of the cool tube category competition. NAT amps in room 1114