Yeah, a smaller show report than usual.
There just wasn't a lot of high-end at this show this year. Magico and Evolution Acoustic brought monitor speakers, IsoMike just had the Sony speakers, Venture had one of their smaller floor standers, etc. etc, *sigh* etc. This year the Mixibiters [who go around at night moving equipment from room to room setting up an ultimate system or two by pairing bestest equipment with other really cool equipment … listening to these super systems, and then reassembling the equipment back to where it was by morning without anyone being the wiser] would throw up their hands in despair.
People don't like it when I add our own room to the rooms that I liked at the show – probably not even if there were only two rooms and the other one was a $1K setup from Wall*Mart. So. Well. What is left?
Best of Show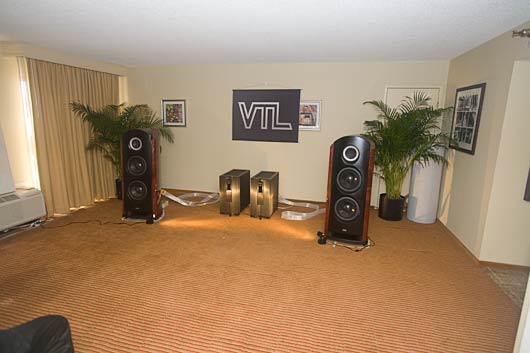 Big VTL on big TAD was about the best that this show could offer this year in the large scale boy toy category, a system usually ignored because it is more of a gee whiz, boy toy kind of system and therefore typically has stiff competition. This year they had little to none.
[When we were in this room we were told in a very loud whisper several times to – essentially – not take any more pictures than the one I had already taken [I guess they – a woman hosting the room I have not seen before – must have been upset that I had taken that one, OMG] because a 'reviewer was here'. In fact it was Larry Borden [hi Larry :-)] from Stereotimes. Considering how often *I* experience rude behavior from exhibitors in these circumstances, one can imagine that many, many attendees are brushed aside each year like they are, I don't know, 3rd class audiophiles? No wonder reviewers are afraid to take the elevators. 🙂 [the majority often do not leave the 1st floor and mezzanine levels, and then only in well armed packs]. [OK, I exaggerate a wee little bit 🙂 … and I guess that would put us audiophiles in the role of hungry vampires…All these Halloween movies are getting to me]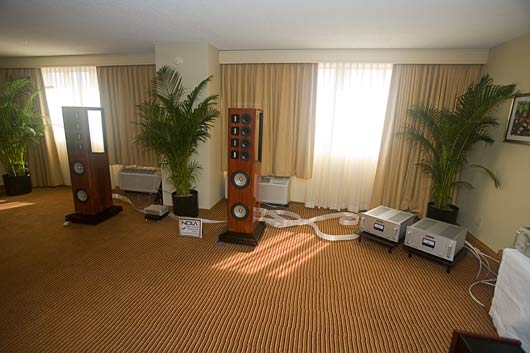 In the large scale system category the Nola room seemed to be the best of the bunch. They play difficult music and are always palatable, if not as engaging as one [well, me] might want. They are here every year with this setup.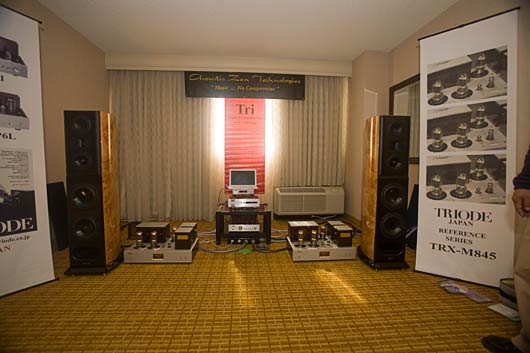 The Acoustic Zen room tied for the best sound in the small room category to my ears, the new Tri amp adding more control to the notes than we have heard on the Crescendo speakers at show before [better tube amps do this in a way that solid state has yet to accomplish].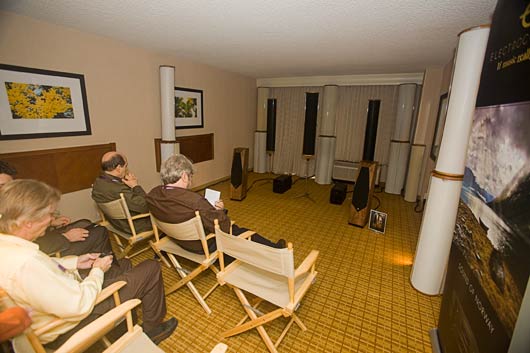 The Avalon room also tied for best sound in the small room category, at a somewhat smaller scale [aka a smaller speaker] than the Acoustic Zen room, and requiring to a somewhat larger degree a solidstate amp solution than the Acoustic Zen speakers. [This is ostensibly a competing dealer's room and we have traditionally been silent about the local dealers rooms at this show – but the pickings this year were so slim… ]. It is these 2 small room systems that I personally could live with and enjoy out of all these rooms I saw at the show this year.
People and companies I did not see this year [although they may have just been hiding from me :-)]… John Barnes [we'll miss you John!], WinAudio [and many other recent manufacturers], Krell [but Madrigal had several rooms], Avantgarde, Soundings, [but ListenUp had a massive presence], Jim Linstrom, Mike Mallory, Rick Halterman [but good to see you, Jim and Linda Rebman – the photos I took did not turn out right, the autofocus had gotten switched off], Dave & Carol, J.A. and J.V. [presumably they were there but…]
Thanks to John Geison and Kevin O'Brien for their most valuable help.
And thanks to everyone who visited our room – we met a lot of new people and got to see a lot of old friends. About 20% of the visitors brought their own music – almost none of which was familiar to us. As usual, the show was a BLAST!