Lamm
Lamm Industries - Quite simply... the world's best audio electronics
Founded in October 1993, LAMM INDUSTRIES, INC. has gained a world-wide reputation for designing high-end audio products of astonishing sonic performance. From our LL2.1 linestage preamplifier to the ML3 Signature monoblock amplifiers, the performance of LAMM products is setting standards for audiophiles the world over.
LAMM employs tube and solid-state technology, along with innovative engineering, to create products that many have heralded as reference class. All our products are designed to deliver not only the best performance at their respective price points, but at any price. All products are designed and manufactured in the USA and are covered by three U.S. Patents. Using optimal parts quality with meticulous attention to detail and the finest craftsmanship, LAMM INDUSTRIES proudly creates what we believe to be the finest audio components on the market today. Although not inexpensive, LAMM products represent an investment in long-term musical satisfaction.
Owned by some of the finest audio critics and journalists in the world, enjoyed by countless audiophiles in many countries, LAMM products deliver breakthrough performance and uncompromising sonic quality.
The Company
Lamm Industries is a U.S. company, founded in 1993, that has been in business for over 20 years. It was founded and is run by its president and Director of Engineering, Mr. Lamm, out of Brooklyn, NY. The Lamm product line is relatively small, just nine items at this time, but each one is an exemplar representative of the state-of-the-art at its corresponding price point. The Lamm high-end audio gear is some of the most well-reviewed gear, most award-winning gear in the world.
The Sound
The sound is natural, balanced, not at all 'tubey' but not at all overly neutral either. It has more resolution than the vast majority of tube gear and sounds more like music than the vast majority of solid-state gear. It strikes a perfect balance between the two extremes and if it has a flavor, it is one of being, one might say, respectful of the music being played.
The Technology
Mr. Lamm's extensive experience in the field of sound reproduction and psycho-acoustics had led him to develop a theory of a "human hearing mechanism" which lies at the basis of all of his designs and which allows him to CREATE THE SOUND. Having experimented with various electronic models of a human hearing mechanism, he had arrived at a limited number of topologies enabling him to create sound reproduction equipment with PREDEFINED and PREDICTABLE parameters, which, in turn, eliminates the need for trial-and-error approach to design and, as a result, the need for listening tests in a process of product development. (Physical prototypes of new models are completed based solely on calculations; once the prototype is finished, the design is practically ready to go into production.)
Recommended Reading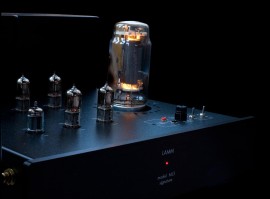 [continued…] 12. (or 11b.) Mr. Fremer didn't try hard enough to personalize the system to his particular tastes Supposing you […]
Read More

›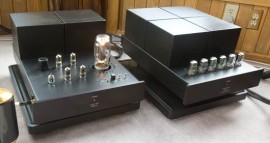 [Another post from the Spintricity Archives from about 3 years ago.] 'The Lamm ML3 Experience ' We were lucky enough […]
Read More

›
Recent blog posts about Lamm
[Wow. An upgrade of the venerable L2 preamp (been with us for… 15 years? A long time anyway). The press […]
Read More

›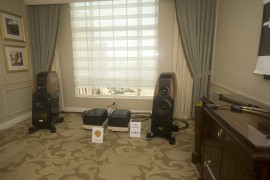 The Lamm Industries, Kharma, SORAsound, ZenSati smaller room at CES 2016. 10 photos.   
Read More

›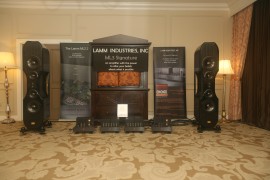 A few photos from the Lamm, Kharma, EMT room. Took photos of floors 30 and 35 yesterday before my camera batteries […]
Read More

›
Lamm is showing with Kharma this year, with some of the larger Kharma speakers. Should be quite interesting 🙂 […]
Read More

›